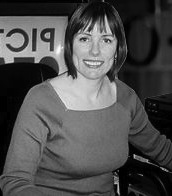 Alex Mackie, A.C.E., is an international film editor with a wide range of experience. She started off working in documentaries and music promos, and moved through sound editing to cutting feature films. She has been nominated twice for an Emmy Award for Best Editing, for the Pilot for C.S.I. and for RKO 281 (which also won the Golden Globe Award for Best TV Film). She was nominated twice by the American Cinema Editors for the prestigious Eddie Award for Best Editing. She was nominated for a BAFTA for Best Editing for An Inspector Calls.
Alex has cut films in the U.S., U.K., and throughout Europe.. Her features work ranges from action movies and thrillers such as The Young Americans, Judge Dredd, The Substitute, The Siege of Jadotville to comedies like St Trinian's , Imagine Me & You,Four Kids and It, and dramas such as Benediction, Daliland, Out of Blue,The Heart of Me , Copying Beethoven. Her television work includes Downton Abbey - Series 1, which won both the Emmy for Outstanding mini-series and the Golden Globe for Best mini-series, and A Poet in New York, Loving Miss Hatto, The Crown, An Inspector Calls, Elizabeth is Missing .
Alex's recent feature films include Mary Harron's 'Daliland', starring Sir Ben Kingsley as Salvador Dali, which premiered at the Toronto Film Festival 2022, and Terence Davies' 'Benediction', starring Jack Lowden and Peter Capaldi, which is available on Netflix.
Carol Morley's 'Typist Artist Pirate King' starring Monica Dolan and Kelly McDonald, will be released Spring 2023.
'The Miracle Club', directed by Thaddeus O' Sullivan and starring Maggie Smith, Laura Linney, Kathy Bates, will be released Summer 2023.